Supercharge Your Devices On-The-Go with Aukey's Fast Charging Power Banks
In today's fast-paced world, staying connected and powered up is essential, whether you're traveling, working remotely, or simply on the move. Fast charging power banks have emerged as the ultimate solution to ensure your devices stay charged and ready for action. In this article, we introduce three high-performance power banks from Aukey that redefine the concept of fast charging on-the-go.
AUKEY PB-Y45 27,600mAh 140W Ultra-Fast Charging Power Bank with Smart Digital Display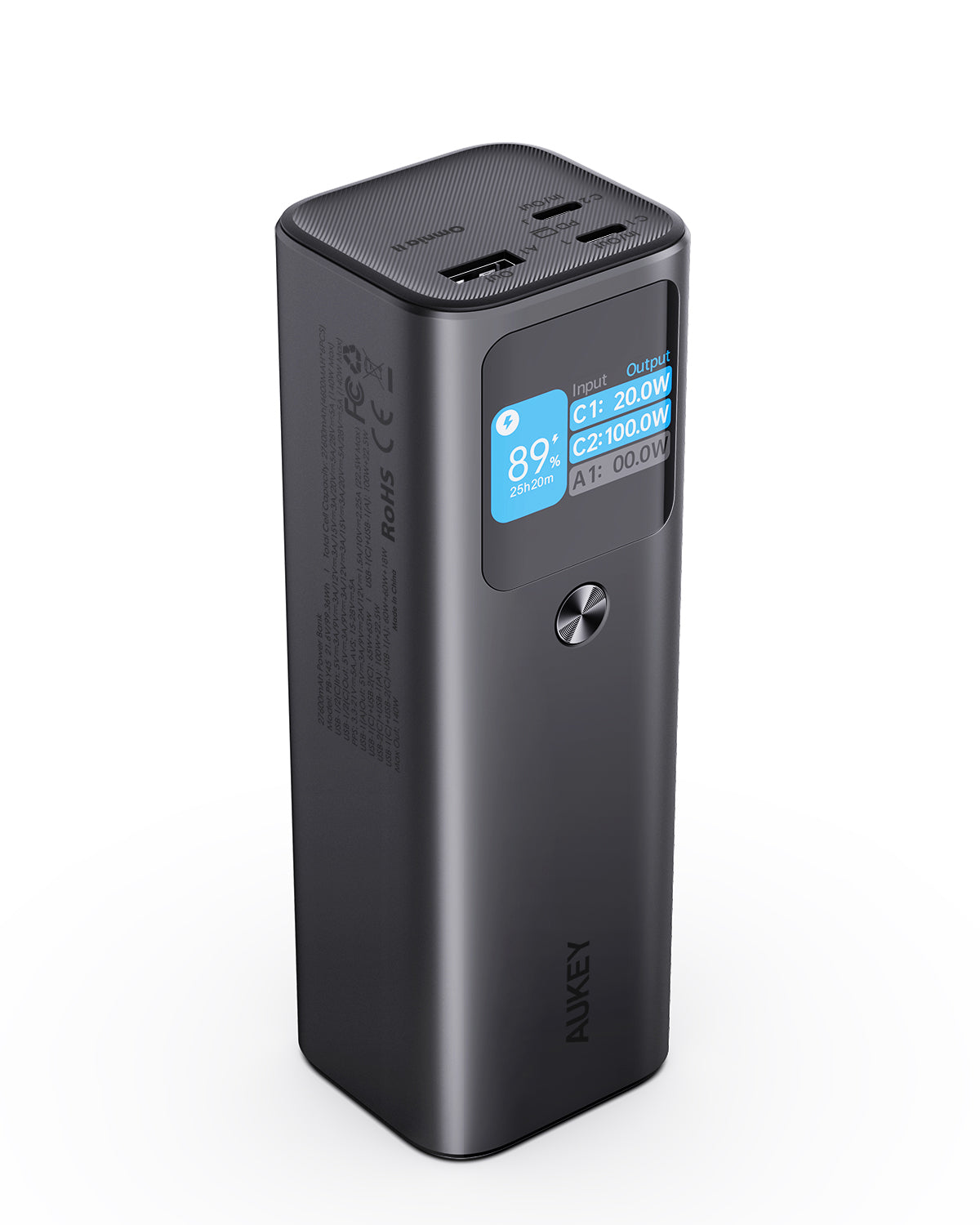 When it comes to raw power and speed, the Aukey PB-Y45 is a game-changer. With an astounding 27,600mAh capacity, this power bank packs enough energy to keep your devices charged for days. Whether it's smartphones, laptops, or other high-demand gadgets, the PB-Y45 handles them all with ease.
But what truly sets this power bank apart is its ultra-fast charging capability. With a 140W output, it can charge even the most power-hungry devices at lightning speed. The inclusion of Power Delivery (PD) and Quick Charge (QC) technology ensures compatibility with a wide range of devices. From laptops to tablets and smartphones, the PB-Y45 can charge them all, and it does so efficiently and rapidly.
What's more, the smart digital display provides real-time information about the battery level and charging status, allowing you to stay in control at all times. This power bank is the epitome of performance and reliability, making it the ideal companion for professionals, travelers, and tech enthusiasts alike.
Product Highlights:
140W PD ultra-fast input and output charging
Compatible with a very wide variety of devices, including MacBook Pro 16"
Detailed digital display gives you all the info you need
Can take onboard a flight
Brand new Sprint X series design
Multiple protections including overcurrent protection, overvoltage protection, and short circuit protection
Check it out here.
PB-Y37 20,000mAh 65W PD Powerbank Fast Charge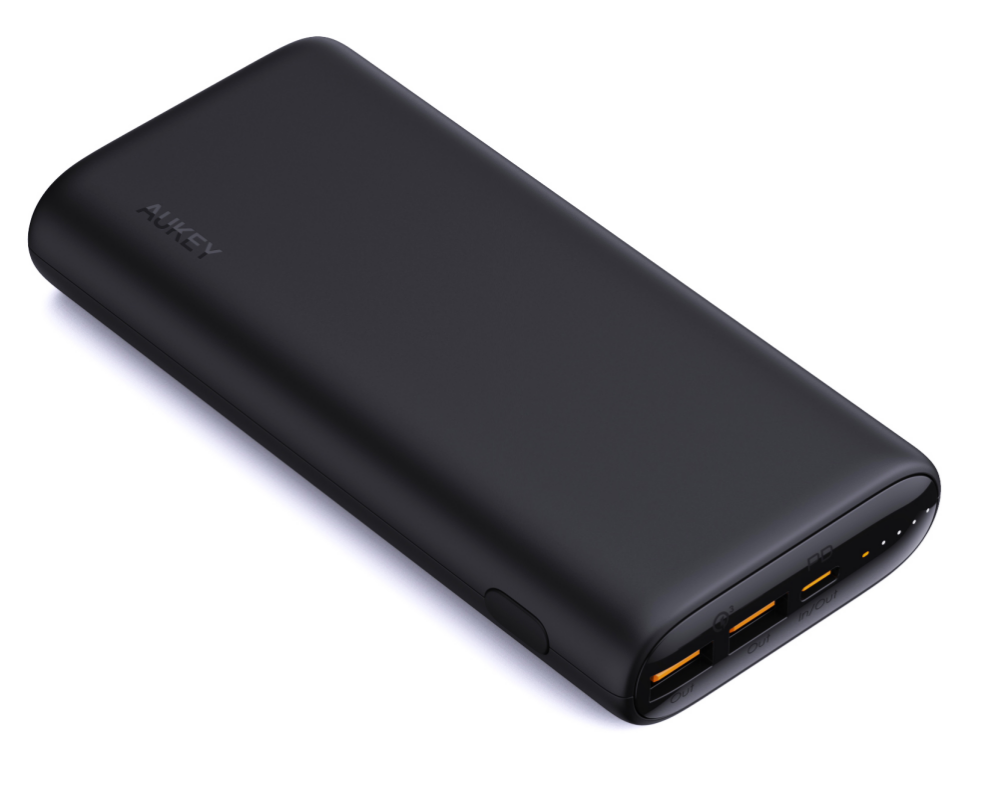 If you're looking for a combination of power and portability, the Aukey PB-Y37 is a remarkable choice. With a 20,000mAh capacity, it can charge your devices multiple times over. Its slim and compact design makes it easy to slip into your pocket or bag, ensuring you're always ready for those power-hungry moments.
The PB-Y37 supports 65W Power Delivery (PD) charging, which means it can rapidly charge a variety of devices, including laptops, tablets, and smartphones. It's a versatile power bank that adapts to your needs, whether you're on a business trip, out for a day of exploration, or working remotely from a café.
With dual USB-A ports and a USB-C port, you can charge multiple devices simultaneously, making it an excellent choice for users with multiple gadgets. The PB-Y37 exemplifies the concept of a pocket-sized powerhouse, offering both convenience and rapid charging capabilities.
Product Highlights: 
Large Capacity: 20,000mAh capacity enough to charge smartphones multiple times

Universal Charging & High Charging PD Output: 65W Power to fast charge your phones, Macbook Pro 13", Nintendo switch, iPad and more.

Fast Charging: Quick charge 3.0 port charges compatible devices up to 4 times faster than conventional charging

Fast Recharging: Recharge the powerbank fully in just 2 hours with 45 PW input

Low Current Mode: Special mode for charging low-current devices, such as headphones and fitness trackers

Comprehensive Protection: Technology to protect your devices from over charging with short circuit protection, overcurrent protection & temperature detection

Plane-friendly: 20,000mAh capacity is within the international limit for flying.
Check it out here.
PB-Y39 15,000mAh 20W Fast Charge PD Powerbank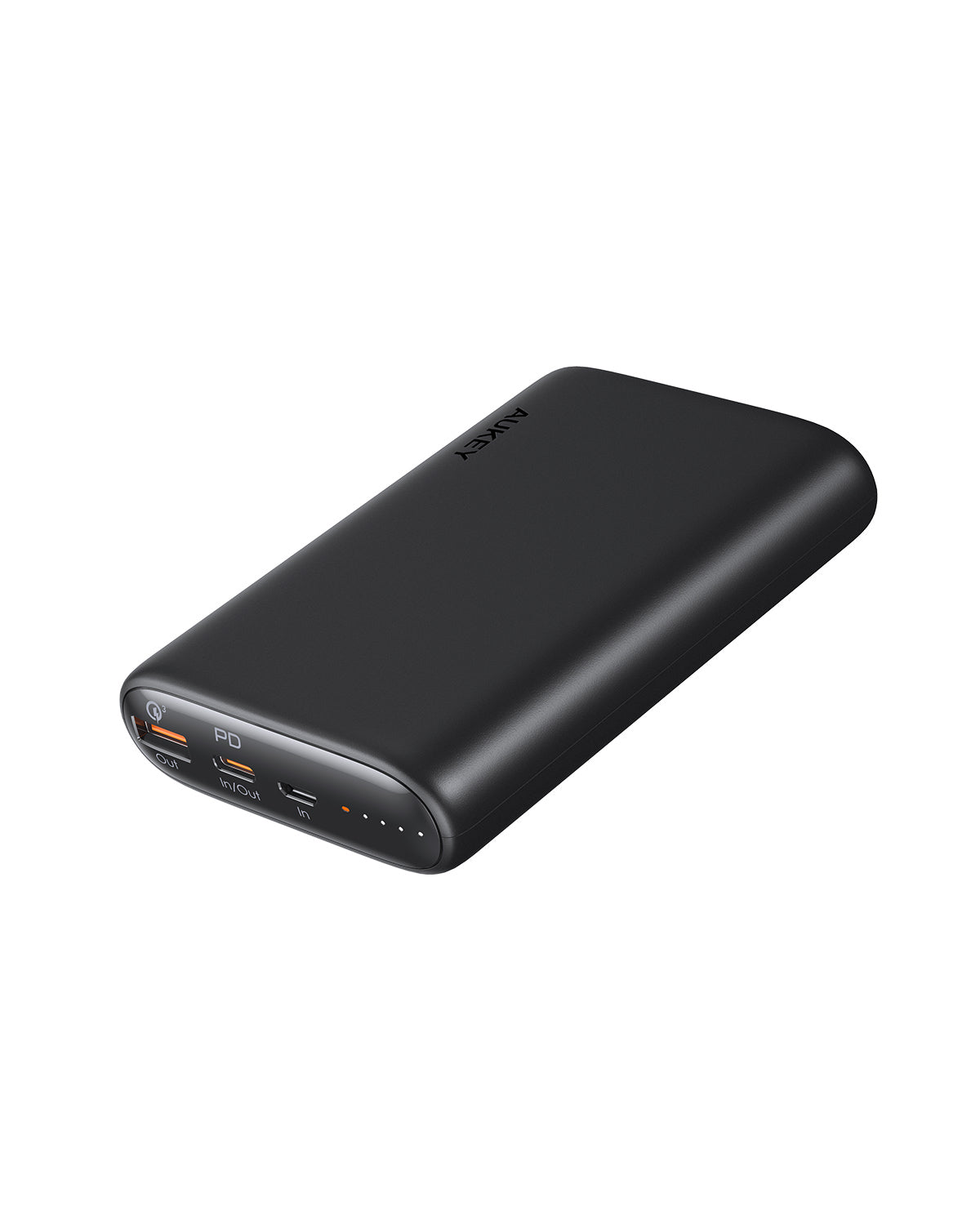 The Aukey PB-Y39 is the embodiment of style and efficiency. With a 15,000mAh capacity, it's designed for those who demand reliable power in a sleek and compact package. Its elegant design and slim profile make it a fashionable accessory that complements your lifestyle.
This power bank supports 20W Power Delivery (PD) fast charging, making it an ideal choice for charging smartphones and smaller devices. The PD technology ensures that your devices charge rapidly and efficiently, so you can get back to what matters most.
The PB-Y39 also features dual USB-A ports, allowing you to charge two devices simultaneously. It's perfect for everyday use, whether you're commuting, running errands, or spending a day out with friends.
Product Highlights: 
Travel-friendly Power Bank

Huge 15,000mAh capacity meets the standard international aviation limit for flying, use for up to a week anywhere in the world

Keep you 100% all the way

The lightweight, portable power easily fits in your bag so you can always have a boost of power wherever you go.

Integrated four-light LED power indicator displays charging status and the current battery life, so you always know how much power you have left.
Check it out here.
In conclusion, fast charging power banks have become indispensable tools in our daily lives. The Aukey PB-Y45, PB-Y37, and PB-Y39 offer a diverse range of options to suit different needs, from raw power and speed to portability and style.
These power banks are not just accessories; they're essential companions that keep you connected and productive no matter where you are. Investing in one of these high-performance power banks ensures that your devices stay charged and ready for action, providing peace of mind in our fast-paced world. Say goodbye to low battery anxiety and hello to uninterrupted power with these fast charging marvels from Aukey.