The Future of Charging: Wireless Chargers Revolutionized
The world of technology has witnessed a remarkable transformation in recent years, with wireless charging becoming a prominent feature in our everyday lives. Gone are the days when we had to fumble for charging cables and deal with tangled cords. Wireless chargers have emerged as a convenient and efficient solution to power up our devices. In this article, we'll explore the world of wireless chargers and feature two innovative products from Aukey: the LC-MC10 MagLink Aura Magnetic Wireless Charger (15W) and the LC-A1S Snap-On 15W Qi-Compatible Fast Wireless Charging Pad with USB-C, MagSafe Compatibility.
Aukey LC-MC10 MagLink Aura Magnetic Wireless Charger 15W
Product Features: 
Stable and Secure:

 

Strong N52 magnet holds securely to your device. Use your device without the fear of the charger disconnecting.
Power in a Snap: 15W wireless charging for your phone.
Multiple Protections:

 

Temperature Control, Overcharge Protection and Radiation Shielding
Case Friendly: Compatible with all MagSafe case
Universal Compatibility: Exclusively compatible with iPhone 15 Series for 15W charge. Other Models - 7.5W
Check it out here.
Aukey LC-A1S Snap On 15W Qi-Compatible Fast Wireless Charging Wire (USB-C) Magsafe Compatible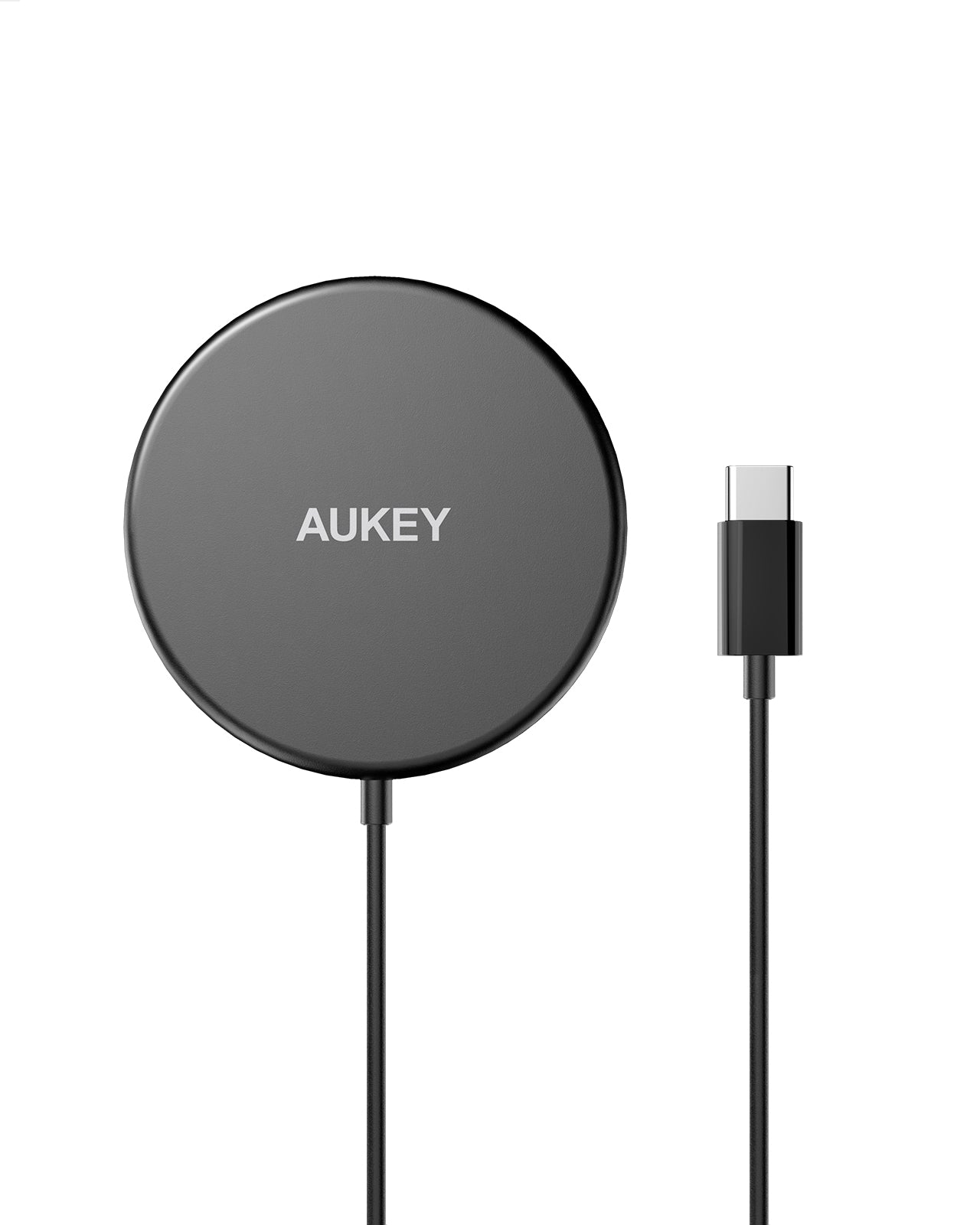 Product Features:
Snap-On, Power Up:
Certified Qi wireless fast-charging up to 15W. One clip magnetically to wirelessly charge your iPhone 8 or later, as well as AirPods models with a wireless charging case, as you would with any Qi-certified charger

Power On, Game On:
Keep your calls and games on-line all the time while your phone gets charged in your hands holding. The 3.93ft/1.2m USB-C integrated cable is long enough for a use range and you never need to go hunting for an additional cable

Safe, in every way:
Simply align your device on the charging area to begin safely charging. Includes a comprehensive suite of protections that ensure things never get too hot. The strong magnetic connection secures your device from accidentally dragging or dropping (*in a certain conditions)

Fast charging through USB-C:
To achieve the 15W charging speed, you'll need 18W/20W or higher power adapters. We recommend AUKEY Minima 20W and Omnia Mini 20W (this package does not include a power adapter.)
Check it out here.
The Advancement of Wireless Charging
Wireless charging, also known as inductive charging, has come a long way from its inception. It is based on the principle of electromagnetic fields that transfer power between a charging pad and a compatible device without the need for physical connections. As technology has advanced, wireless chargers have gained significant popularity, becoming standard features in many modern devices.
The Convenience of MagSafe Technology
MagSafe technology, introduced by Apple, has revolutionized wireless charging by providing a secure magnetic attachment for compatible devices. This technology ensures proper alignment, making it a breeze to charge your phone without worrying about misalignment issues. The Aukey LC-MC10 MagLink Aura Magnetic Wireless Charger fully embraces MagSafe compatibility, offering a fast and stable charging experience for Apple devices. With a remarkable 15W charging capacity, it's one of the fastest wireless chargers available.
Fast and Efficient Charging
One of the key advantages of the Aukey LC-MC10 is its fast-charging capability. Boasting 15W of power, this wireless charger ensures your device charges swiftly and efficiently. Whether you're in a hurry or simply want to top up your battery while working at your desk, the LC-MC10 offers an exceptional charging speed that keeps up with your busy lifestyle.
Convenience and Versatility
The Aukey LC-A1S Snap-On 15W Qi-Compatible Fast Wireless Charging Pad offers a unique blend of versatility and convenience. It is Qi-compatible, making it suitable for a wide range of devices, not limited to just Apple products. Its Snap-On design is incredibly user-friendly, allowing you to attach it magnetically to the back of your phone, so you can continue to use your device while it charges. The Snap-On feature ensures that your device remains securely attached during charging, eliminating the need for precise alignment.
Tangle-Free Charging
With the LC-A1S, you no longer have to worry about the mess of tangled cables. This wireless charger comes with a USB-C wire, providing a fast and reliable connection to your power source. The cable is detachable, giving you the flexibility to use it for other purposes or switch it out for a longer one, depending on your needs.
Safety and Durability
Both the LC-MC10 and LC-A1S are designed with safety and durability in mind. They come equipped with overcurrent, overvoltage, and temperature control features to protect your device while it charges. The premium materials used in their construction ensure long-lasting durability, making them dependable charging solutions that will stand the test of time.
The Aesthetics of Wireless Charging
Wireless chargers aren't just functional; they also make a statement in terms of aesthetics. The sleek and modern design of both the LC-MC10 and LC-A1S adds a touch of elegance to your workspace or bedside table. These chargers seamlessly blend into any environment, ensuring that they not only serve a functional purpose but also enhance the visual appeal of your surroundings.
Wireless charging has ushered in a new era of convenience and efficiency. Gone are the days of searching for charging cables and dealing with tangled wires. Aukey's LC-MC10 MagLink Aura Magnetic Wireless Charger (15W) and LC-A1S Snap-On 15W Qi-Compatible Fast Wireless Charging Pad with USB-C, MagSafe Compatibility exemplify the cutting-edge technology that has made wireless charging an integral part of our daily lives.
With features like MagSafe compatibility, fast and efficient charging, versatility, tangle-free connections, safety, and stylish aesthetics, these products cater to a wide range of user preferences. Whether you are an Apple enthusiast seeking the convenience of MagSafe technology or a Qi-compatible device user looking for a versatile and sleek charging pad, these Aukey wireless chargers provide a solution that complements your lifestyle.
In conclusion, wireless chargers have become an essential accessory for the modern tech-savvy individual. They offer a convenient and efficient way to keep our devices powered up while reducing clutter and simplifying our lives. With the Aukey LC-MC10 and LC-A1S, you can experience the future of charging today.